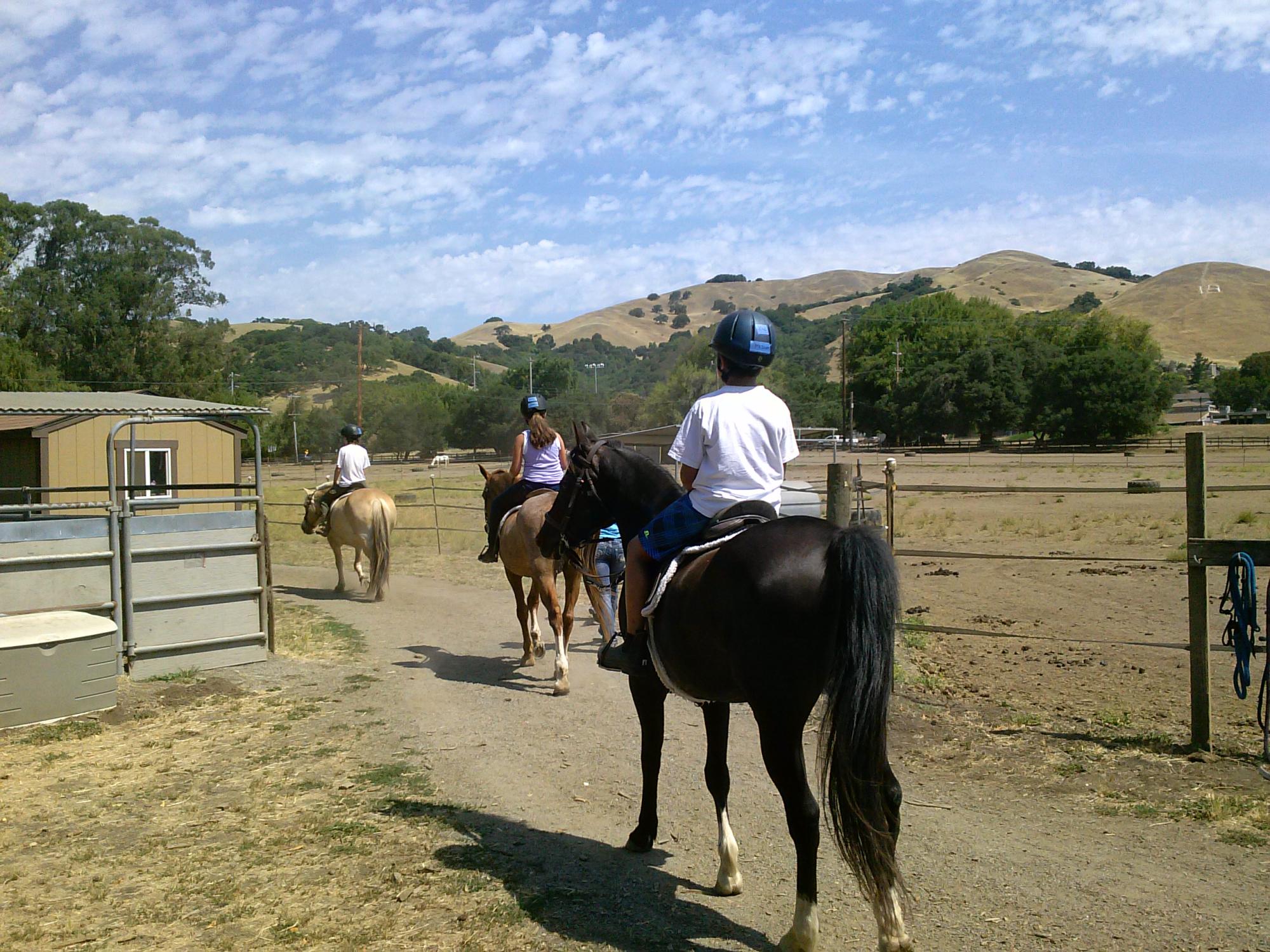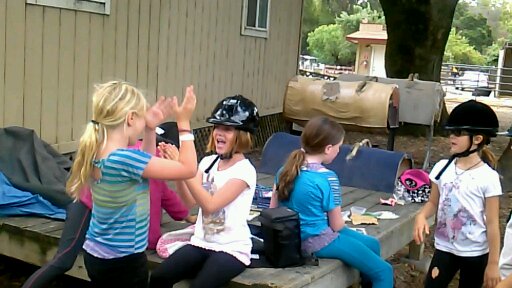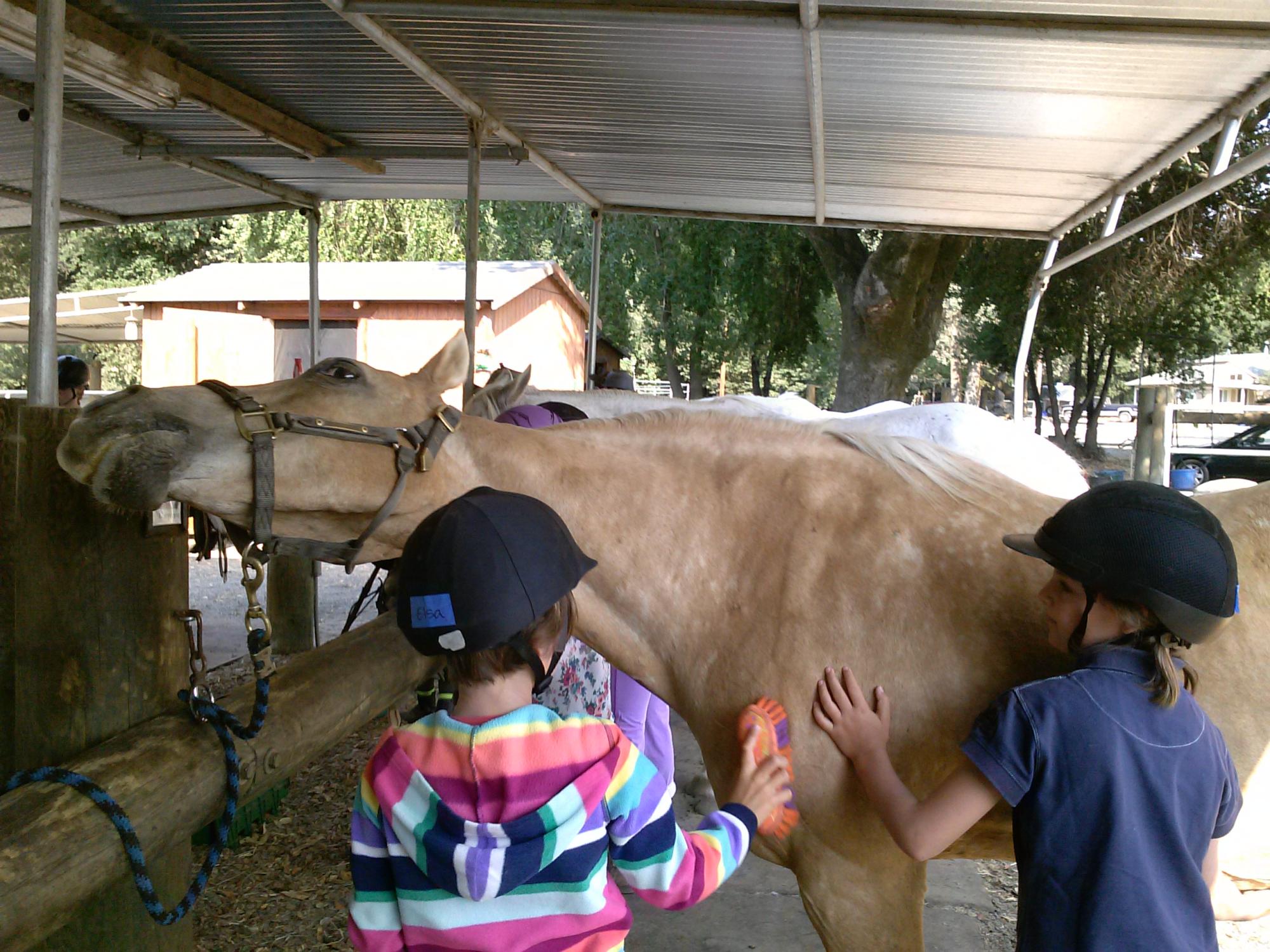 Summer Camp 2023
Taking Wait List for All Sessions
may be accepted at our discretion after an evaulation lesson)
Times: Half Day 9:00 - 12:00
Full Day 9:00 - 3:00
Cost: Half Day $ 510

Full Day $ 825

Sessions: Half Day Full Day
June 12-16 CLOSED CLOSED
June 19-23 CLOSED CLOSED
June 26-30 CLOSED CLOSED
July 10-14 CLOSED CLOSED
July 17-21 CLOSED CLOSED
July 24-28 CLOSED CLOSED
July 31 - Aug. 4 CLOSED CLOSED
August 7-11 CLOSED CLOSED
August 14-18 CLOSED CLOSED
Camp Program Information
Daily riding lessons will teach your child solid basic riding skills. Campers with more experience will continue to build on that foundation. Campers will learn grooming and saddling on their own horse and will also have fun bathing and braiding them. SAFETY on the ground and when mounted is strongly emphasized. Our experienced instructors, many of whom are CHA certified, along with assitants, will help your child learn all about horses. Games on horseback, trail rides, bareback riding and beginning vaulting are offered weekly. Our staff to student ratio is 1 to 5 for all riding activities.

Full Day campers will have an additional afternoon riding lesson, crafts and "horse play" See Q & A below
Lunch is held from 12:00 to 12:45 p.m. There is a snack bar onsite where campers can purchase lunch items, drinks and snacks. We also have a vending machine available.
Campers will each have a cubbie to store their belongings in our clubhouse.
t the end of each camp week we will email parents a link to our YouTube channel which will give you an overview of all the main horse activites and riding your camper has particpated in during the camp week.
If the camp session you wish to enroll in is full, you can be put on a wait list by emailing the office with your contact information, your childs name, age and the week(s) you want to be wait listed for.
What to Wear & What to Bring
Camp Essentials for Safety and Comfort
Half Day Campers need to bring a light snack and water bottle . Bring an extra pair of socks for vaulting.
Full Day Campers need to bring a snack, a packed lunch and water bottle .
Bring an extra pair of socks for vaulting.
Snack

Ba

r Campers may bring money to purchase items

in

the snack bar. Lunch items are available as well as drinks and treats.
Please send a snack and water bottle at a minimum with your child each day even if using the snack bar. The snack bar is only open
during lunch and is not available in the morning session.
Campers

should wear:Socks, Long Pants without any "bling" which can scratch the saddle.

Riding Helmet,

Riding type

boots.

N

on-equestrian helmets and hiking boots are not permitted. Prior to arriving please apply sunscreen- (NO sprays allowed at camp) pull hair back in a LOW ponytail.
Campers should NOT bring any cell phones. If they are brought they will need to to be turned off and stored in the cubby until camp pick up time. We are not responsible for any lost or stolen items brought to camp.
Sanitized Riding helmets and boots are available for loan at no charge - You DO Not need to reserve in advance.
If you are concerned about sharing helmets, you may purchase one for $45.
To purchase a helmet click here Helmet

Order

Form. Fill out the form and include it with your camp registration.
To Sign Up
ClickClick Here for Summer Camp Registration packet.
Click Here for the Registration Packet
The packet contains: Camper Information Form, Summer Camp Registration Form and Signature Page of the Release Form.
Fill out and sign all the forms fully, include payment by check, cash, Visa, Mastercard or debit card. NO American Express

If you are paying by check

*mail or drop off at

: Morning Star Farm
*(We highly recommend that you do not mail your forms as the session can fill by the time your forms arrive.)
Payment must be included with your fully completed forms in order to hold a space.
If you are paying by credit card you may scan and email forms to contactmsf@aol.com.
You may also drop the forms off at the Morning Star Farm office. Please use the mail slot located by the office door.
Confirmation: You will receive a confirmation email within 2-3 days once we receive your registration forms and payment. Please do not assume your child is enrolled until you receive an email from us. This is the only confirmation you will receive from us. We do not send out any confirmation packet, all the info. you will need can be found on this web site.
Cancellations & Refunds
Refunds - less $100 booking fee for all

cancellations

up to MARCH 15th. Thereafter No Refunds will be given unless the space can be filled from our wait list. Then the above rule applies.
pace can be filled from our waiting list, then the above rule applies.
Substitutions - After you receive confirmation, you have 48 hours to make any changes to the camp date or

to

substitute a camper. After this

time

a $75 fee is required for any substitutions of camper or

changes to

camp date. (subject to availability).
Frequently Asked Questions
Q: How much time will my child spend on horseback?
A: Typically, Full Day Campers spend approx.3 hours a day on horseback, while Half Day Campers will spend about half that time mounted.
Q: What types of mounted activities will my child be involved in?
A: We have daily riding lessons (2 daily lessons for Full Day campers) plus we play games on horseback and lunge each camper individually to work on riding skills. We also have bareback riding time, vaulting and a trail ride.

Q: What are Lunging and Vaulting?
A: Lunging is where the instructor has the mounted student on a long line. This line is held by the instructor so she may control the horse on a large circle. Campers may then freely do a variety of exercises on horseback while getting individual attention.
Vaulting is gymnastics on horseback. It is used to stengthen and build rider balance and confidence while having fun. The horse is controlled by the instructor on the lunge line.
Q: What is your camper to staff ratio?
A: 5 Campers to 1 staff member for all mounted activities.

Q: Does Full Day camp continue after the horse show on Friday?
A: Yes it does
Q: What is the difference between Half and Full camp sessions?
A: The campers that stay all day will have an additional afternoon riding session followed by a differnt daily activites. Here are some examples: Finger painting a live horse and then bathing her. Learning to braid manes and tails, caring for and playing with the petting zoo animals, arts and crafts including how to draw horses - of course!
Q: Do you accept credit and or debitcards?
A: Yes we accept Visa, Mastercard and debit cards.